Hello Everyone!
I love Anthropologie and I wish I could afford all the beautiful items they offer but I finally found something that I can make an almost exact replica and it would cost WAY less than what they sell it for! Here is what the cute mason snow globe jars look like: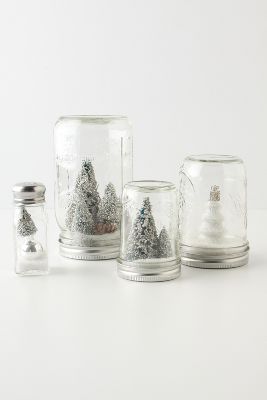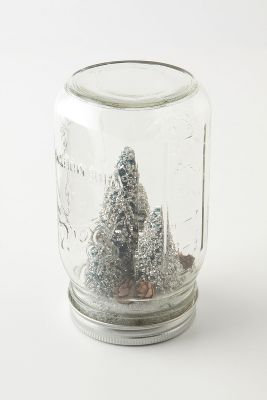 www.anthropologie.com
Cute, right? But $39 for the largest jar when you can buy everything for around five dollars!? I have a few mason jars and white glitter around my house so I just needed the cute, little trees! I found these cuties at a store and they were 50% off too! So they totaled around two dollars and some odd cents.
Next I got my mason jars ready and glued the bottom of the trees to the underside of the lids. Filled the jar with my some purr-tee glitter, screwed the lid back on and flipped over the jar. Voila! (Please ignore my mess of a desk-too many projects with very little time!)
Here are the jars on the window sill in our kitchen. (Notice our stunning view of our Yellow Lab's kennel-no lake view property here!)
What I love about these jars is I can leave them out all winter!
Jessica